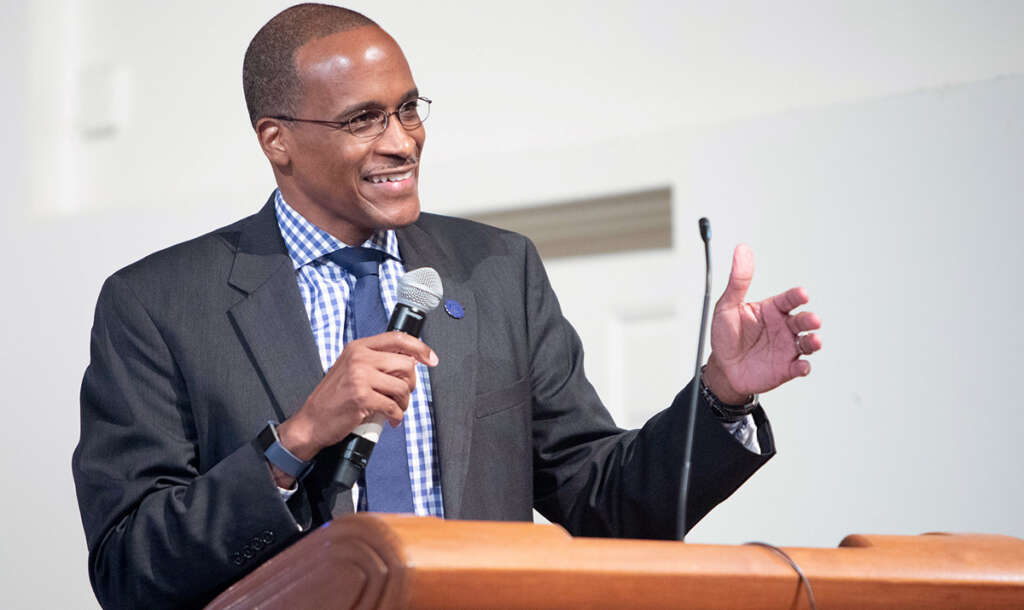 Walter M. Kimbrough has spent the past 18 years serving as president of two Historically Black Colleges and Universities: Philander Smith College (2004 – 2012) and Dillard University (2012 -2022). Prior to ascending to the presidency at age 37, he was Vice President for Student Affairs at Albany State, a public HBCU in Georgia. Before that, he worked in a variety of leadership roles at Emory University, Georgia State University, and Old Dominion University.
Today, Kimbrough joins the USC Race and Equity Center as an Executive in Residence.
"I am excited to be engaged with the USC Race and Equity Center," Kimbrough notes. "I have benefitted from the Center's work in sharing the value that HBCUs have, as well as its research on the experiences of Black students on majority campuses and the state of Black athletes. I hope I am able to bring value to the work being done, especially the Center's new national effort focused on HBCUs."
Student retention and graduation rates increased at both HBCUs where Kimbrough served as president. Additionally, Dillard experienced record levels of fundraising success throughout his decade there. For instance, alumni giving increased from 4% to 23%, and the University received its largest private gift in 2020 when MacKenzie Scott made a $5 million donation. Also, the University's participation in GivingTuesday grew from $60,000 in 2016 to $1.3 million in 2021. Most notably, Dillard's endowment experienced extraordinary growth from $48.6 million to $105 million during Kimbrough's tenure.
"I have known, greatly admired, and collaborated with Dr. Kimbrough several times over the past 24 years," says University of Southern California Provost Professor Shaun Harper, our center's founder and executive director. "Irrefutably, he has earned a reputation for being one of our nation's best, most accomplished college presidents – not only among those who lead HBCUs, but across all sectors of higher education. I am therefore thrilled and grateful that he has generously agreed to join us and deepen our HBCU partnerships."
During his residency, Kimbrough will co-chair our new National HBCU Racial Equity Commission with Howard University Trustee Danette Howard, our center's inaugural Executive in Residence. He will also teach in our various professional learning programs and aid in the launch of our new certificate offerings for executives across industries. Additionally, Kimbrough will help us identify opportunities to meet the DEI coaching, professional learning, and strategy partnership needs of college presidents and other senior-level higher education leaders.
An Atlanta native, Kimbrough describes himself on LinkedIn as, "Born to Rebel like Benjamin Mays. A Transformed Nonconformist like Martin Luther King Jr. Fighting the Power like Public Enemy." For many years, people on campuses he led and others around the world have affectionately referred to Kimbrough as the "Hip Hop President." He has published several journal articles and other academic publications, including two papers he co-wrote with Harper. Models of Success: How Historically Black Colleges and Universities Survive the Economic Recession is Kimbrough's newest book. Published nearly two decades ago, Black Greek 101: The Culture, Customs, and Challenges of Black Fraternities and Sororities, his first single-authored book, remains one of the most read and highly cited on the topic.
Beyond academic writings, Kimbrough has also published articles in Diverse Issues in Higher Education, The Chronicle of Higher Education, Inside Higher Ed, The New Orleans Advocate, and The Atlanta Journal-Constitution. He also has interviewed on CNN, MSNBC, Roland Martin Unfiltered, and NPR. In March 2022, he testified before the United States Senate Judiciary Committee about bomb threats at HBCUs.