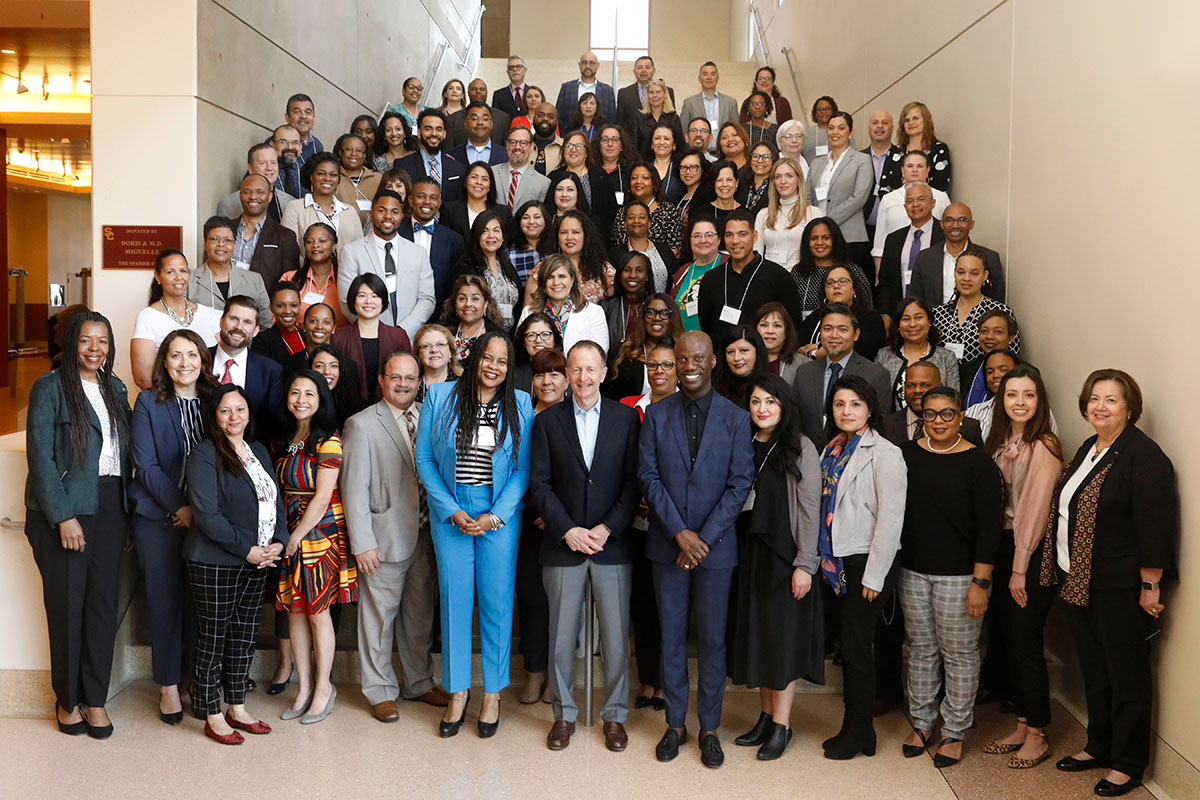 At an October 2019 event on the University of Southern California campus, Austin Beutner, superintendent of the nation's second-largest school district, announced a new partnership with the USC Race and Equity Center. "One of the things we want to do is build the capacity in our school leaders to make choices – informed choices that are in the best interest of students – together with those who work in the schools they lead," Beutner said in an Education Week article a few weeks after the partnership announcement. "It's not just 'restore the school, connect it to the community.' If you do that without building the capacity of leaders you miss part of the puzzle, and that is where our work with USC comes in." The Center officially launched our first K-12 Racial Equity Leadership Academy for 80 principals across the Los Angeles Unified School District (LAUSD) just a few months later.
Rigorous professional learning, strategic action planning, coaching and feedback, strategy implementation, and assessment are focal activities of the 18-month Academy. The inaugural experience began with an all-day kickoff on the USC campus on March 5, 2020, just one week before COVID-19 abruptly catapulted LAUSD students and educators to remote schooling. The global pandemic only temporarily halted the Academy. Four months later, the Center and LAUSD pivoted from monthly in-person professional learning sessions to twice per month live virtual learning experiences. Highly respected national educational equity experts – Tyrone Howard (UCLA), Dorinda Carter Andrews (Michigan State University), Yolanda Sealey-Ruiz (Columbia University), Eddie Fergus Arcia (Temple University), Toby S. Jenkins (University of South Carolina), Allyson Watson (Florida A&M University), Eddie Cole (UCLA), and Shaun Harper (USC Rossier School of Education) – were the inaugural academy instructors.
In addition to learning about an array of timely racial equity topics and developing skills required to solve vexing racial equity problems, Academy participants designed strategic racial equity projects in response to specific challenges and opportunities in their respective schools. Center experts continue to offer coaching, feedback, and assessment. Once the projects have been fully implemented and evaluated, we aim to have compelling stories to share about how principals are leading sustainable, high-impact racial equity initiatives across dozens of LAUSD schools. More importantly, we intend to have credible evidence that shows measurable progress toward closing racial equity gaps and fostering inclusive school environments for students, their parents and family members, and LAUSD employees.
Community of Schools Administrators (COSAs) lead, supervise, and support LAUSD principals. They also communicate standards and use accountability measures to ensure that the essential elements of an effective learning environment are in place at schools for which they have oversight. Each COSA is directly responsible for improving equity within their community of schools. The District launched a Racial Equity Leadership Academy with the Center in Fall 2020 for 40 COSAs. The 18-month experience includes the same components as the Center's Academy for LAUSD principals.
These are not the Center's first experiences working with a large K-12 school district. We maintained several substantive partnerships with the School District of Philadelphia when we were located at the University of Pennsylvania, the center's birthplace. Also, we successfully executed a large project focused on college-bound, mostly low-income Black and Latino young men across 40 traditional public high schools in New York City. "We are proud of the transformative work our center did in those 40 New York City schools. I know for sure that our substantive, multiyear partnership with LAUSD will have an even bigger impact on students of color and their communities," says Shaun Harper, our Founder and Executive Director.
In February 2021, the Center launched a yearlong professional learning series for every teacher, counselor, and school leader across the Inglewood Unified School District. Once monthly, hundreds of employees from every school and the District office actively participate in a live, highly engaging professional learning session on these racial equity topics:
Leading Productive Conversations about Race and Racism at School
Understanding the Manifestations and Effects of Anti-Blackness in Schools
Teaching the Truth about Slavery and America's Racial History
Affirming Students' Racial Identities and Cultural Histories in Curricula
Recovering from Racial Inequities Produced During and Exacerbated by COVID-19
Understanding and Addressing Implicit Bias
Eliminating Racial Disproportionality in School Discipline
Cultivating Relationships with Families and Communities of Color
Resolving Racial Tensions in Schools
Beyond Inglewood and LAUSD, we are also engaged with other districts in Los Angeles county. For example, Harper facilitated implicit bias training for every administrator in the Glendale Unified School District. We also provided a three-dimensional learning experience for students, educators, and parents who serve on the Alhambra Unified School District's Equity, Diversity, and Inclusion Taskforce. In addition, we conducted a racial climate assessment for Alliance College-Ready Public Schools, a network of K-12 charter schools across Los Angeles. The Idyllwild Arts Academy near Riverside, Sequoia Union High School District in the San Francisco Bay area, and Lemon Grove School District near San Diego are other K-12 schools and districts throughout California with which we are currently partnering.
"Over the last two years, our work has empowered K-12 school leaders, teachers, and staff to disrupt racism and intersecting systems of oppression in their school communities that disproportionately harm people of color," notes USC Rossier School of Education Professor John Pascarella, our center's Chief Academic Officer. "Participants in our Racial Equity Leadership Academies report being better equipped to identify policies and practices that undermine racial equity, to develop curricula that center students' racial histories and identities, and to teach or lead in inclusive, culturally-sustaining ways that affirm students and families of color."