In the Spring of 2023, the USC Race and Equity Center's K12 Programs offered a free professional learning series to a cohort of principals, assistant principals, and instructional leaders across Los Angeles County. The primary goal of the K-12 Racial Equity Leadership Lab (KRELL) series was to engage leaders committed to racial equity in the greater Los Angeles community in becoming more skilled at advancing racial equity in their organizations. Driven by our K-12 program theory of change, the series consisted of segments focused on equity leadership and community building, collective knowledge sharing, and co-generative problem-solving with participants. 
Over four months, leaders participated in four, 90 minute sessions focused on the following key topics:
Recruiting, Supporting and Retaining Teachers of Color

Promoting Culturally Relevant Curriculum across Content Areas

Sustaining Culturally Responsive Teaching in your School

Fostering Racial Equity Data Literacy and Decision-Making



Sessions facilitators included Dr. Akilah Lyons-Moore, Assistant Professor of Clinical Education, Dr. John Pascarella, Chief Academic Officer and Professor of Clinical Education, and Dr. Erica Silva, Associate Director, K12 Programs and Adjunct Assistant Professor. Collectively, their K12 expertise spans school leadership, curriculum and culturally responsive teaching, and implementing racial equity initiatives in K12 schools. 
For this inaugural program, 60 applicants were accepted after a highly competitive application process to participate in our Spring 2023 cohort. Participants spanned across charter, district, parochial and other educational non profit organizations that serve K12 schools. They also represented over 40 different organizations, spanning from Santa Monica to Palmdale.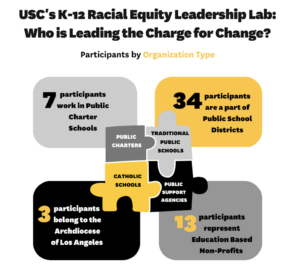 The KRELL series empowered participants to lead meaningful change in their organization while networking and collaborating with neighboring equity-minded educators in their own community. One participant commented, "The openness and willingness of every participant to be vulnerable and to listen was really wonderful. The opportunities to learn and share were powerful. I leave feeling inspired and better equipped to make effective changes on my school campus." Another participant concluded that, "As a result of participating in [Racial Equity Leadership Lab] series, I was able to have those difficult conversations with colleagues about race and inequities in the classroom." By developing a designated space for leaders committed to racial equity to learn alongside and from one another, the KRELL series empowered Los Angeles County K-12 leaders to build and sustain equity initiatives on their campuses.  
In addition to participating in the series, participants received worksheets, articles, toolkits and digital resources designed to equip them to build and lead racial equity learning opportunities for their colleagues on their respective campuses.  
Opportunities to participate in the K-12 Racial Equity Leadership Lab series will be available in the coming year for interested leaders committed to racial equity. If you would like to bring a K-12 Racial Equity Leadership Lab to your organization, or for more information about our K12 programs at the USC Race and Equity Center, please contact us at k12race@usc.edu or visit our website at race.usc.edu/k-12/.